Thursday, October 6, 2022 / by Ira Miskin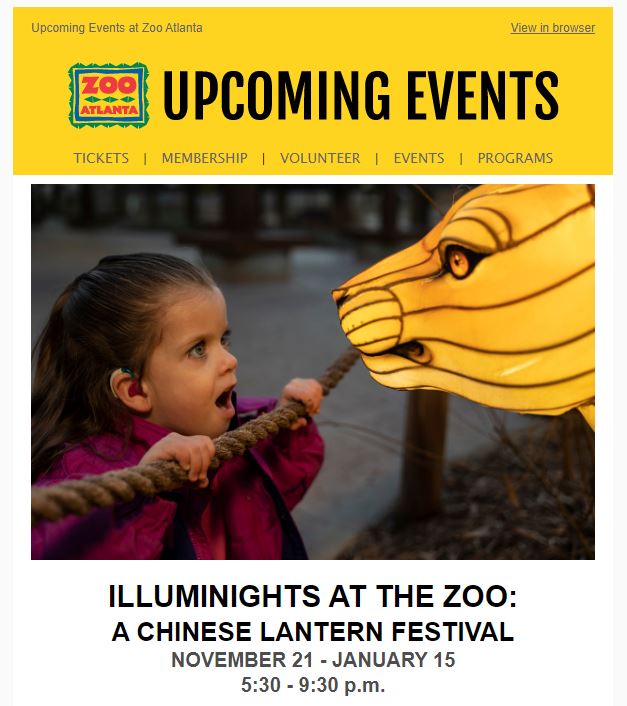 Looking for something cool do do with your children this fall season? check out Zoo Atlanta:
Upcoming Events at Zoo Atlanta
ILLUMINIGHTS AT THE ZOO:
NOVEMBER 21 - JANUARY 15
5:30 - 9:30 p.m.
Atlanta's newest holiday tradition is back and better than ever.
Zoo Atlanta partners with Hanart Culture to bring this one-of-a-kind light experience back to Atlanta! Vistas of illuminated wildlife and awe-inspiring sights await in a nighttime wonderland celebrating the beauty and wonder of the natural world. IllumiNights at the Zoo is presented by Georgia Power.
A nighttime lantern wonderland celebrating the beauty of the natural world
Stroll the Zoo after dark to be inspired by more than 80 nature-inspired lanterns depicting some of Earth's most amazing and charismatic flora and fauna, both real and imagined. Each lantern is made and hand-painted by Chinese artisans, therefore representing thousands of hours of work. In keeping with Zoo Atlanta's commitment to sustainability, each lantern also features environmentally-friendly LED lights.
General Admission Tickets
Child 2 & Under: FREE
Child (3-11): $17.99 – $19.99
Adult (12+): $20.99 – $24.99
Senior (65+): $17.99 – $21.99
Group Tickets: $16.99 – $18.99
Zoo Atlanta Member Tickets
Child 2 & Under: FREE
Child (3-11): $14.99 – $16.99
Adult (12+): $16.99 – $20.99