Friday, October 7, 2022 / by Ira Miskin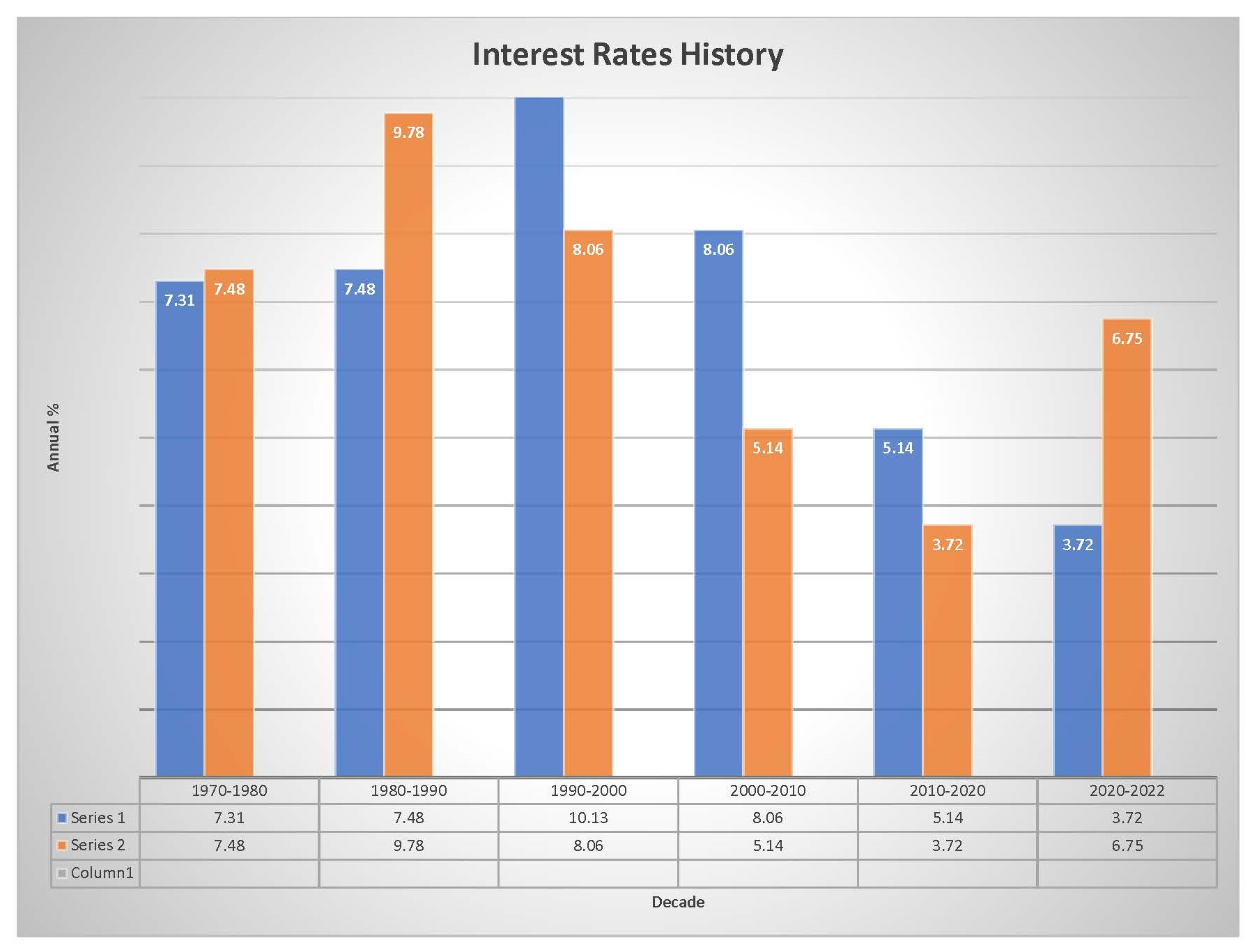 Many folks seem to have a vague understanding of interest rate history. Neither do they understand the relationship between mortgage interest rates and a healthy economy. And they completely miss the mark on how the economic value of owning property vs. renting helps or defeats their personal economic stability. BE the landlord NOT the tenant!
The market crashed in 1929 and 80 years later in 2008. In between, there were all the cyclical economic ups and downs, wars, threats of "nuclear destruction" and other momentary "potential catastrophes." There were also decades of stability and growth.
And guess what? Smart folks who invested in real estate, as individual homeowners and also as property investors saw their investments multiply in value over the decades of market issues and market stability. Because in the USA there is NEVER a bad time to purchase real property. That's why there are so many investors and landlords!
Simply put. If you pay $2000 per month rent ($24,000 actual dollars from a family's net income,) at the end of every 12-month period they have a $24,000 hole in their bank account.
- The landlord has used the payments to pay their own mortgage,
- earn some monthly net income,
- and benefit from the tax deductions allowed to property owners.
Renters pay all the costs, and landlords get the value of annual equity buildup, normal market appreciation and a saleable asset when necessary or appropriate!
Charting out what interest rates have been over the last 50 year show all that's happening is we are re-entering normalcy in rates that coincide with healthier economies where inflation averages 1% - 3% per year, economic growth averages 4% per year and income grows by about 4% - 5% per year. AND, property values appreciate an average of 3% - 4% annually and compound over the lifetime of home ownership.
One more thing:
Pay rent for 12 months @ $2000 per month x 12 months = $24,000. Net cash value to renter = $0
Pay a mortgage for 12 months @ $2,000 per month = $24,000.
• Tax Bracket 30%
o Annual interest Average Year 1 – 10 $11,500
o Tax credit annually = $3450
o Property Taxes annually: $1800
o Tax credit annually = $540
• Annual net cash value to property owner = $3,990
Rent = $0.00 savings
Own = $3,990 savings
I'll just rent until after the market crashes or interest rates come down????
To learn how to manage interest rates, and buy your next home or investment property to gain economic leverage over an ever-changing economy call Your Home Sold Guaranteed realty-the Miskin team: 770-672-7832