Tuesday, July 5, 2022 / by Ira Miskin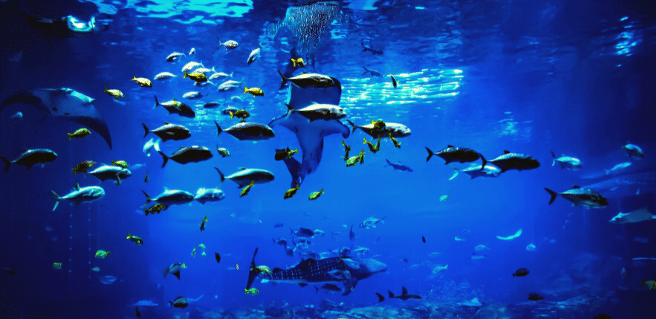 IF YOU THINK THERE'S NOT MUCH TO DO IN ATLANTA - THINK AGAIN. One of the best venues we have is the ATLANTA AQUARIUM.
Here is a great run down published in RIS Media.
Take a break from the busy city and go under the waves at the Georgia Aquarium! With new exhibits being added, there is so much to see and do. Take a magical journey with your family or friends and come face-to-face with all your favorite aquatic creatures, including sharks, dolphins, sea otters and a plethora of fish.
The Georgia Aquarium is a non-profit organization that houses more than 11 million gallons of water within its walls. It is a scientific institution that entertains and educates, features fun exhibits and programs with the highest standards and offers exciting experiences for guests. As a leader in aquatic research, they promote the conservation of the ocean and its inhabitants throughout the world. Being able to work with marine life in a controlled environment, the aquarium is contributing to the advancement of human knowledge in animal science.
The Georgia Aquarium features several exhibits for you and your family to explore. With new exhibits opening and updates always happening, every time you visit the aquarium you can expect something different.
Sharks! Predators of the Deep. Home to many recognizable apex predators in the ocean, this new gallery brings you face-to-face with the most misunderstood creatures in the sea in one of the largest and most dynamic shark exhibits in North America. Ocean Voyager. One of the world's largest single aquatic exhibits, this 6.3 million gallon tank is home to more than 50 species. The tank was specifically made to house the largest species of fish, the whale shark. There are many other species that live in the tank, including stingrays, several sharks and the enormous goliath grouper. Cold Water Quest. This gallery features the iciest waters in the aquarium. Home to beluga whales, African penguins and Southern sea otters, this gallery features many viewing windows to see all your favorites. The penguins are also equipped with a state-of-the-art lighting system that mimics the natural light cycle from twilight to moonlight. River Scout. Rivers are a source of life for not just animals, but also people and cultures throughout the world. In this exhibit, you'll explore the diversity of animals found in rivers. This gallery is themed to simulate a meandering North American river flowing over your head. Some creatures found here are alligator snapping turtles, piranha and Asian small-clawed otters. Tropical Diver. Find Nemo and experience the 200-plus species of coral found in this gallery. Home to an overhead crashing wave, you can find seahorses, jellyfish and living corals all throughout this relaxing exhibit. Pier 225. In 2015, an unusually high amount of sea lion pups were stranded on California beaches during an Unusual Mortality Event (UME). During this, Georgia Aquarium adopted two pups from this UME and made a home for them. They now serve as sea lion ambassadors to educate the public. Come see Neptune and Jupiter and their friends perform in the Under the Boardwalk presentation. Dolphin Coast. This gallery features the Aquarium's own pod of bottlenose dolphins. They also participate in a presentation that focuses on efforts in preserving this species and they do a live training demonstration. Seats are first-come, first-serve, with the option to purchase reserved seats. Aquanaut Adventure. Visiting Aquanaut Adventure is a unique experience that allows guests to learn about marine life in some of the most intense environments on our planet during a voyage through this fully renovated gallery. Featuring some new species like the wood frog, Baja blue rock lizard and an African pancake tortoise.
Year-Round Events
Along with the exhibits and shows, The Aquarium hosts many special events throughout the year. With adult-only events and events including children, there's something for everyone to enjoy. An event that occurs monthly is Yoga by the Water, which is a unique workout experience. An adult-only themed event that happens throughout the year is Sips Under the Sea. Dress up in your best costume and enjoy the aquarium at night, kid-free.
If you would like to host your next event at the aquarium, like weddings, meetings, birthday party or a special event, then visit here for more information. Be sure to stay up to date with all the COVID-19 guidelines to host an event here.
If you are still wary of visiting public indoor spaces, then there are ways you can virtually visit the aquarium. All day, every day you are able to access live webcams that are located throughout the aquarium. Watch the belugas perform flips or the puffins dive underwater. There is always activity happening in the tanks.
Want to contribute but can't make it for a visit? There are many ways you can fund the conservation efforts that go on here. Donate any amount to different programs like research and conservation or educational programs.
Join the Georgia Aquarium's membership program, Anchor Society. The multiple levels that are offered contribute to helping build and sustain crucial research, k-12 educational programming and global work surrounding conservation and research. Members can also enjoy unique benefits in addition to their support.
A fun way to support the aquarium is to purchase a one-of-a-kind work of art painted by belugas, sea lions, penguins and dolphins.
A free way to contribute to the aquarium is to become a volunteer or an intern. The Aquarium depends on the help of volunteers to continue the mission they have set out to complete. Each program varies in its commitment level, so there is an opportunity for everyone to contribute.
Tickets for the Georgia Aquarium vary between member and non-member prices. They are currently only available online and need to be purchased in advance of your visit. There are also timed entries to visit and will be scheduled in 30-minute timeslots. Children under 2 are free and do not require an admission ticket. All other ages are now a single price. General admission tickets are $36.95 and all shows and presentations are included in your general admission ticket.